"When my uni friends found out about Amber we all realised we hadn't seen each other for ages - or each other's families - as life can get so hectic. So someone suggested a re-union camping weekend where some of us would do a 24 mile walk to raise sponsorship money whilst the families stayed at the campsite and played for the day. About 20 families came in the end and we raised £12,000 - it was an amazing weekend as not only did we all have a wonderful catch up but everyone felt extra specially happy at the end for raising all that money. It was also really simple, a date was fixed, a campsite booked and Just Giving sites were set up - that was it."
Sarah Starbuck, pictured above, with husband, Marc and their daughter, Amber.
There are literally hundreds of ways to raise money to support efforts to speed treatments and a cure for Rett and not all of them require months of hard training.
Over the years we've seen people take on some weird and wonderful challenges. Who could forget Josefine sitting in a bath of beans or James running into the frozen sea on New Year's Day? This year, Naomi Vides swam the whole English channel in honour of her younger sister Nadya!
Whether it's a run, bike ride, swim, walk, cake bake, sponsored silence, obstacle race or something a bit crazy, set up your Just Giving page today and help make Rett history.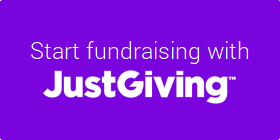 Want to do something but don't know what?
Download our action pack here or contact Andy on 0161 434 8117 or by email: andy@reverserett.org.uk
Find out how to make the best Just Giving page possible in the PDF below.
Here you can find Just Giving's top ten tips for fundraisers